Welcome to Sol Ballroom Dance!


We make learning to dance

Easy & Fun!

Hannah Cole and the Sol Team are thrilled to welcome you to the Sol Ballroom Dance Center - Las Cruces' only center for partner dance education, entertainment and teacher training. Featuring a unique "Sol system of learning" dancers of every age and ability will enjoy dancing all styles of ballroom, Latin, swing, country, and nightclub dances! Sol Ballroom offers group classes, individualized lessons, EVERY FRIDAY NIGHT Sol Dance parties, teacher training, youth classes, wedding preparation, dance fitness, special events, and more.

No experience needed! No partner necessary! Every body welcome! Thank you for choosing Sol Ballroom. We look forward to dancing with you!

At Sol Ballroom, we are committed to your health, safety and dancing!

In March 2020, we were forced to pivot due to the COVID pandemic. We closed our doors, we taught on zoom, we taught one dancer at a time, we got creative, we collaborated, we did everything possible to assure two things would happen: 1) We would keep all of our dancers safe, and 2) we would still be here when things opened again. We succeeded in both!

As things are now opening back up again, we are aiming our sights on being able to offer all that we used to: awesome group classes, weekly social dance parties, events and more. And yet, each offering takes time to re-develop. We are thrilled to now be offering dance parties every other Friday, ongoing Ballroom Dance Teachers Academy courses, and private lessons.

Want to get dancing now? Private lessons are being held in person. We would love to dance safely with you. Still at home? That's okay too. We offer virtual lessons from our Zoom Room and you can follow us on Facebook, Instagram & YouTube for the latest. Now, more than ever is the time to take the first step towards the life you want. Do it now!



EXTENDED THROUGH SEPTEMBER 30th

DON'T MISS OUR SUMMER SPECIAL!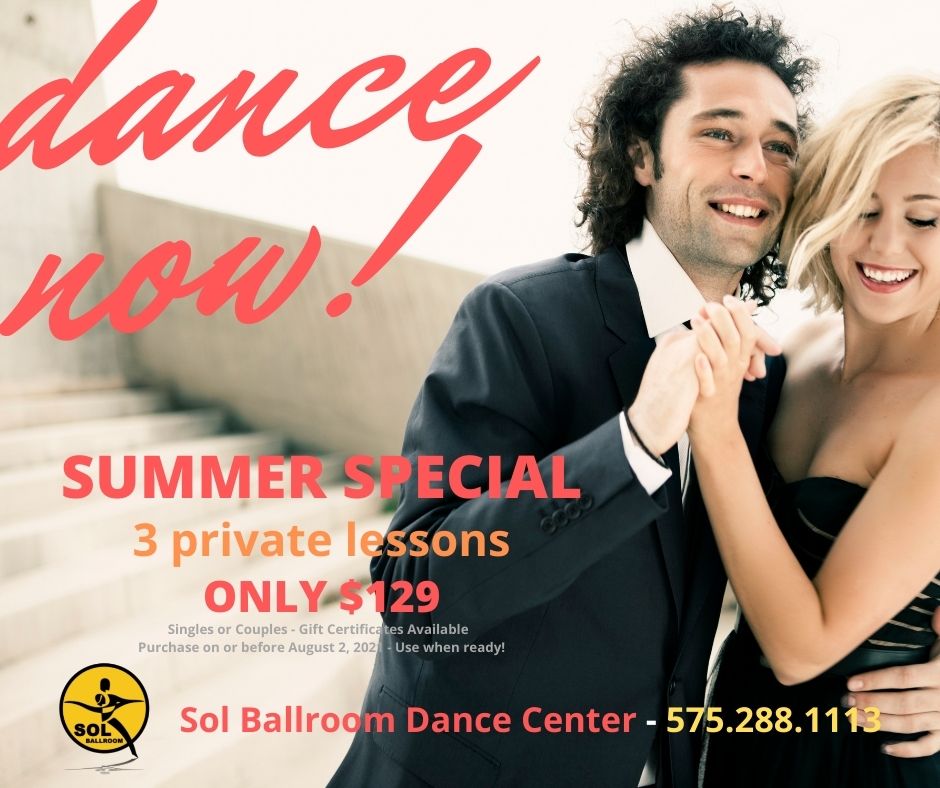 Let us tailor a special program just for you based on your desires and abilities. Let us help you become a great social dancer this summer. Enjoy THREE individualized dance lessons - just you (single or couple) and your instructor on the way to achieving your dance dreams. ONLY $129* *Plus NM GRT. New students only, must purchase on or before August 2nd.

---

PARTIES ARE BACK!!!


| | |
| --- | --- |
| | Every Other Friday Night Sol Dance Party: Join us EVERY OTHER Friday night for our super fun social dance party. Each week you will learn TWO different dances and then dance the night away to the best Ballroom, Latin, Swing, Country and Nightclub dance music. No Partner? No problem! No Experience? Enjoy the Sol Guarantee: We promise to keep you dancing ALL NIGHT LONG no matter how experienced you are. WE WILL TEACH YOU! Check out the CLASS SCHEDULE for monthly featured dances. |

Coming to you again very soon!!!


GROUP CLASSES

We can't wait to get back to these. In an effort to keep our dancers safe, group activities were suspended in March 2020, but they will be back soon.



The best way to learn new moves! Visit the class schedule HERE.

Group classes start

at the beginning of each month

and with

nine weekly series classes

to choose from, you are sure to find an affordable and enjoyable option. Take one series class for just $12/session* or take advantage of the

Dance-A-Lot! special

for just $99* for TWO MONTHS of UNLIMITED DANCING and learn them all. Series classes means you will

review, progress, and practice every week

. Miss the first week? No problem, you can begin the second week. Not sure? Drop in the first week (Only $15/class* or $30/night*).

Please wear leather soled dress shoes, non-marking sneakers, dance shoes, or socks in order to assist your learning and protect our floors.

Attire? Wear what makes you feel most beautiful or handsome... you will dance better this way. *Plus, NM GRT, Drop-ins are not allowed after the second week in support of our dancers' progress and overall experience.
DANCE-A-LOT! Unlimited Group Classes for TWO MONTHS!

AVAILABLE AGAIN VERY SOON!!!
Enjoy the physical, social and cognitive benefits of dance in an affordable way!
It has been shown that ballroom dancing three times a week can offset Alzheimers and Dementia by 76%. It can also enhance a few other capabilities... Enjoy one or all of the adult group dance classes we offer for two full months. It's a great way to get started with dance and with Sol Ballroom. And with at least 6 classes a week, you will pay only $2/hour or less. Package begins at the start of any 4-week session of classes.
Only $99*/person for TWO FULL MONTHS.
*Plus NM GRT. For new customers only. Limit one.

Introductory Special - Get a GREAT Introduction!





---

AVAILABLE AGAIN VERY SOON!!!
Take full advantage of the Sol System of Learning!
The best way to get to know all Sol Ballroom has to offer and to take advantage of the Sol System of Learning. The perfect combination of groups, private lessons and social practice is by far, the quickest way to learn, to integrate, and to enjoy your new skill.
Package includes: three individualized lessons, one 4-week group class, and one EFN Sol Dance Party.
Only $139 individual/$179 couple* - SAVE up to $153 individual/$198 couple
*Lessons are 45 minutes long. NM GRT not included in price. For new customers only. Must be completed within 60 days from start date. Limit one.

Shall We Dance? Private Lesson Special

AVAILABLE NOW!!!
The best way to get started with a little one-on-one attention that will take your dancing to new heights!
The Shall We Dance? special includes five individual dance lessons with one of our Sol master level instructors. Learn to dance at your own pace and according to your personal schedule. Private lessons are the quickest way to become a great dancer.
Only $249* - SAVE up to $146
*Lessons are 45 minutes long. NM GRT not included in price. For new customers only. Package valid for singles or couples. Limit one.

---
Get your Gift Certificates NOW!

Perfect for you or someone you love!
LET US KNOW WHAT YOU WANT. IT IS A GIFT THAT LASTS A LIFETIME, email us NOW!